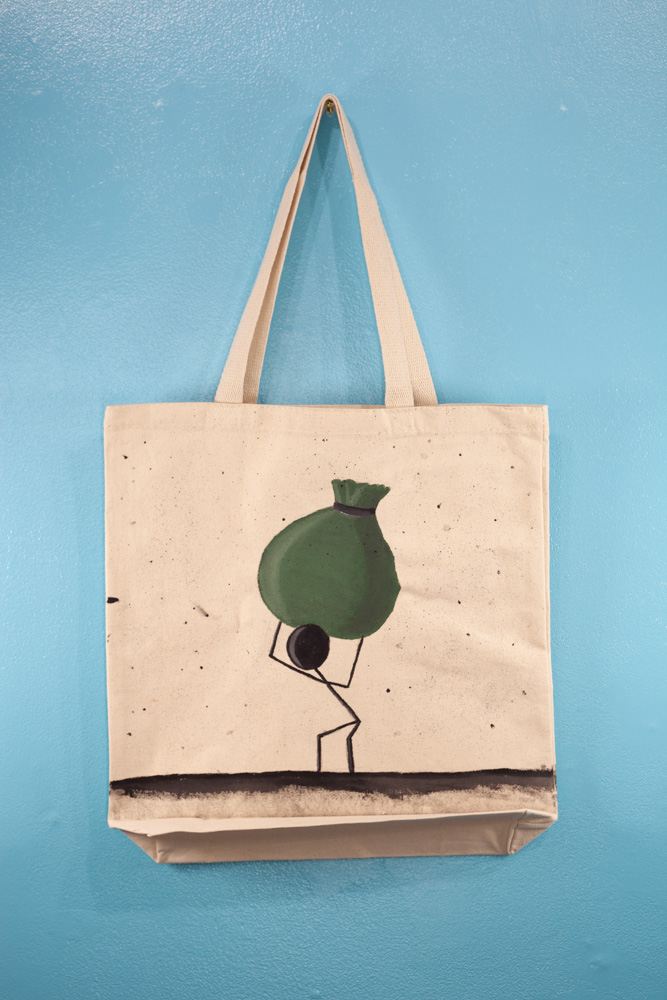 ---
by Ella Eustace
Size:
15 x 15 x 3 inches
Edition Size:
1
Materials:
Felt and gouache on canvas
12oz Heavy Canvas
Bottom Gusset
Reinforced at stress points
21 inch Web Handles
_____________________________________
About the Tote Bag:
This tote bag was crafted for anyone who has ever struggled with the effects of heavy emotions weighing them down or trama. I crafted this bag to visually represent how emotion can weigh us down and be a burden to carry. The front side of this tote bag features a shattered heart crafted by using felt with heartbeat lines coming out either side. This piece was crafted to illustrate that though we may still be physically living we oftentimes feel broken inside and that our burdens are tearing us apart and at times become too hard to carry. With this in mind, this is where the opposite side of the tote comes into play. This side features a stick figure carrying a large bag on his back painting with gouache. This bag is a representation of the struggles, pressures, and overall emotions that we carry daily. It also represents the effect that these things have on our health. The figure is struggling to carry this bag almost buckling under its pressure to represent how these emotions can truly crush us at times, especially if built up over a long period of time. With this piece I hope to bring light to the fact that though one may look alright on the outside, everyone is burdened with their own issues and it is important that we recognize the struggles individuals are going through and don't scrutinize them for it.
______________________________________
---