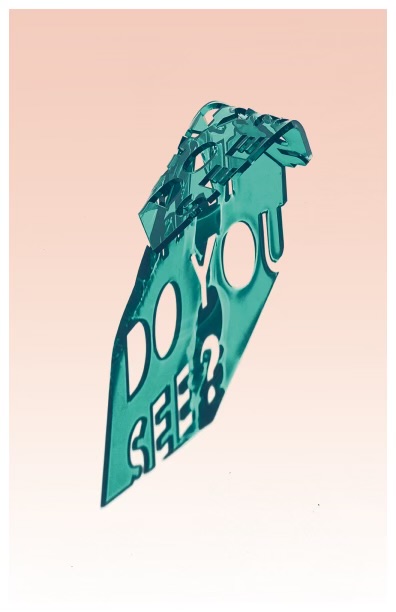 Emily Fussner
Size: 11x17 inches
Edition Size: 50
Medium: Risograph
Paper Type: Premium Vellum Cover White (80lb)
$30
_____________________________________
About the Poster:
"[What] do you see?" is a basic question I consider in art and life: trying to look closer. This design comes from a photograph of a small sculpture I made as I've been experimenting with tinted transparent acrylic, laser-cut text, and heat-bending. I'm fascinated by the intensity of the shadow—the way its color is the same as the material and appears as solid as the object, challenging my perception and opening up another dimension of possibility.
______________________________________
About the Artist:
Emily Fussner is a multidisciplinary artist whose work highlights ephemeral and peripheral patterns in everyday spaces. Often crouched down, casting parking lot cracks or tracing sunlight and shadow, she translates the onsite documentation into prints, books, sculptures, and installations that can unfold in other places—exploring questions of transience and presence, fragility and strength, perception and care. Fussner received her MFA from George Mason University and was awarded a 2018-2019 Virginia Museum of Fine Arts Graduate Fellowship. Her first solo exhibition in Washington, DC, was at IA&A at Hillyer in 2019. She is currently a resident artist at Arlington Arts Center.
︎@emilyfussner