Documentation of the live performance...
---
Jamison Mae Rohan
Memorial for Transgender Youth
15 minutes
Fresh Flowers, Black suit, white button up shirt dyed with flowers from previous performance of score,* microphone, mic stand, speaker
2023
For sale:
Jamison Mae Rohan Score
Size: 11 x 17 inches
Medium: Risograph
2023
Remnants from the Performance:
Dress shirt (stained with the flowers from the performance)
Size: Medium
Medium: button up shirt
2023
$ TBA
---
why this was made...
With the current rise in political efforts to eradicate transgender people across the nation, I feel the need to hold a memorial service for transgender youth. The anti-trans legislation passing in far too many states seeks to kill trans youth literally and metaphorically. The discrimination and lack of accessible healthcare the trans community faces causes high suicide rates and the stress of these issues causes transgender youth to lose the innocence of childhood before they have even gotten to experience it fully. Memorial for Transgender Youth is an ever-evolving score that is adaptable to different spaces and constraints. Previous iterations have been included in the photos. For this iteration, I will stand in a circle of fresh-cut flowers with a microphone on a stand attached to the amp system. I will be dressed in a black suit with a button-up shirt that has been dyed with the leftover flowers from the previous performance of the piece. The performance will consist of a eulogy I have written for trans youth in America, which will last about 15 minutes maximum. I will conclude the performance by inviting the audience to take a flower or two home with them. Any leftover flowers will be used to dye a button-up for the next performance of this score.
---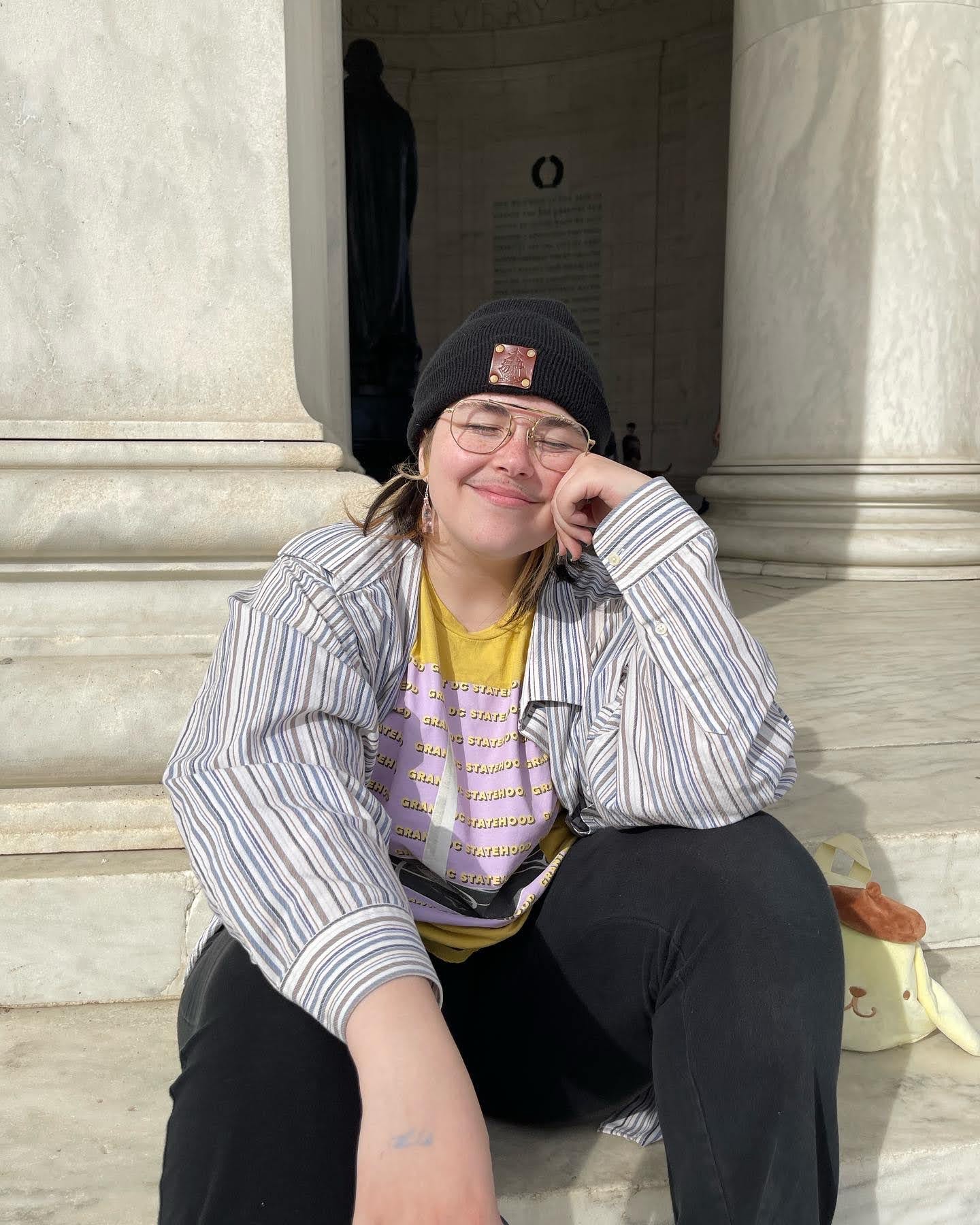 ︎@jamisonmae7_art
About the Artist:
My work is heavily influenced by my experiences as a queer, nonbinary, autistic individual. I use my art to reflect on my past, process my present, and dream for my future. My goal in exploring my own story is to help others think about their own. I want my art to feel like a home to others. Even when I work based on my personal experiences, I want others to be able to see themselves within it.