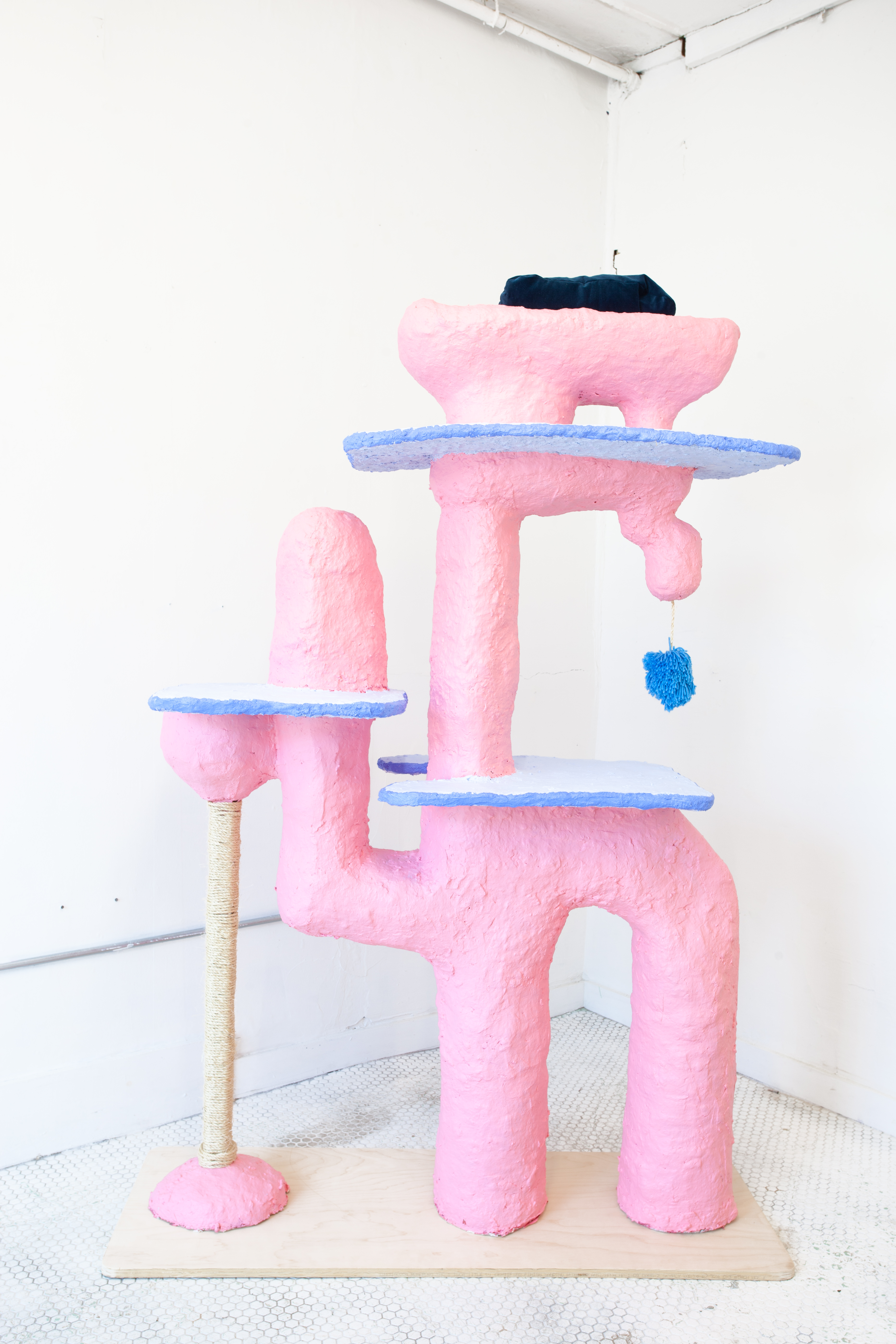 ---
Matthew J. Russo
"You like it?"
Dimensions: 54"(l) x 20"(w) x 77"(h)
Medium: Wood, Paper-pulp, Tape, Acrylic, Fabric
2020
$750︎
****Pick-up only. If you need shipping or delivery, please contact us directly
here.
****
---
My cat tower mimics the undulating shapes and the squirminess that can be found in a cat's movements. It also tries to keep the cat engaged during the day by giving them several platforms and perches to look out windows from, a scratching post, bumpy bits to rub against, and a puffball to bat at. At the Top of the tower is a bowl shaped bed that will allow a cat to soak up the warming rays of the sun.
---
︎@matthew_j_russo
About the Artist:
Things are both concrete and ambiguous. They have developed and known material and visual attributes, and they also have unknown and unobtainable qualities that make them feel animated and powerful. My work borrows from these ideas. I turn materials that require time and an understanding of a craft into abstracted esoteric forms of semi-understandable shapes. I sew, paint, pour, mush, cleave, measure, and construct things out of fabric, foam, resin, plastic, wood, paint and paper-pulp. They range from brightly colored to neutral. Some are awkward and clunky, while others appear more subtle. These abstract forms are often extracted from the things I consume and observe like plastic toys, scraps of clothing, garbage that I pick up off the ground, chunks of demolished building, the odd screenshots from the internet on my phone. These objects are remnants of consumerism that have specific trajectories and lives that have crossed my own and they wrench my attention to them. My work tries to capture this relationship in form, materials, and processes.