Documentation of the live performance...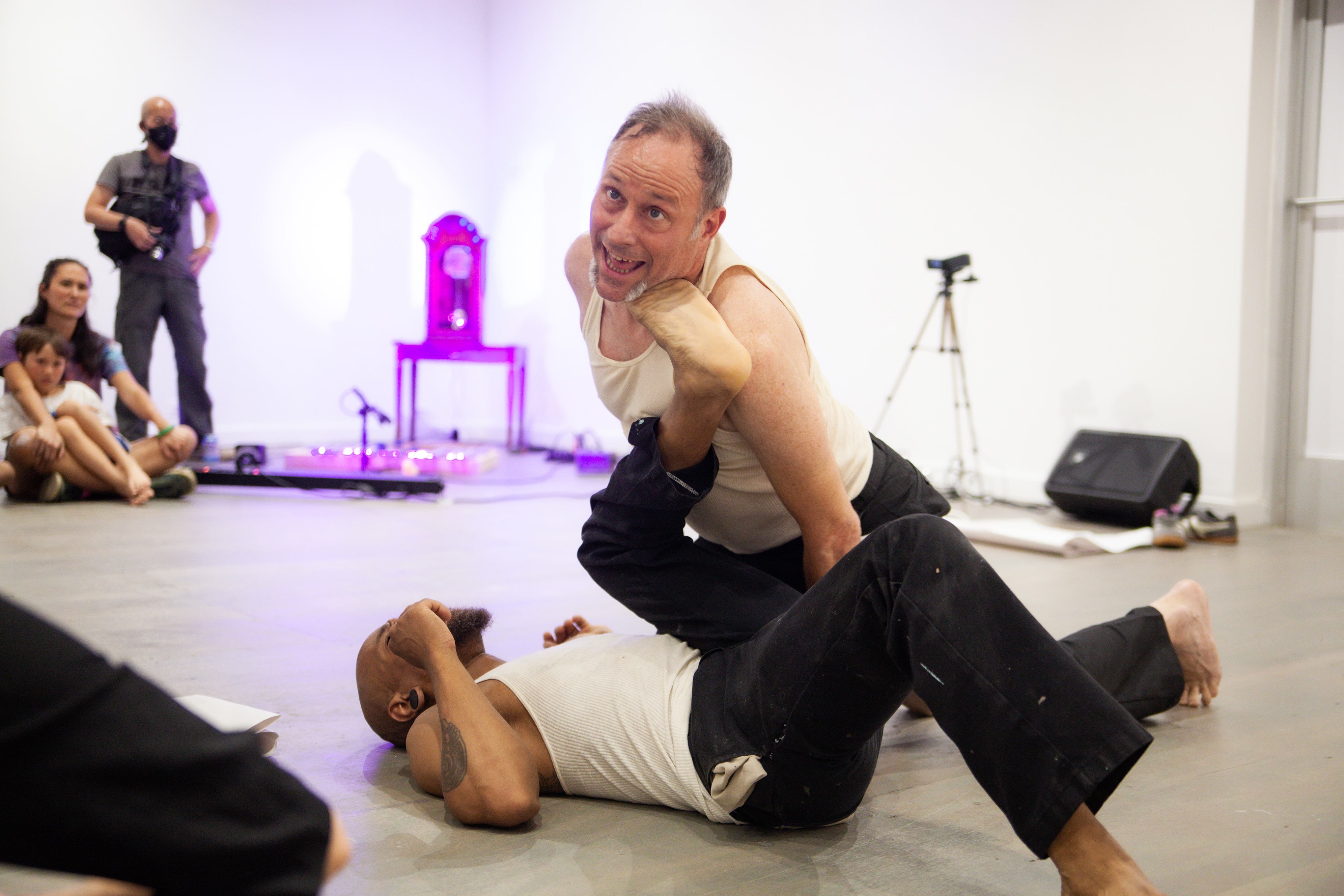 Peter Redgrave
PROP 6
PROP 6 is a duet. It is the sixth iteration of my PROP series, books that hold dances that dancers hold.
10 minutes
24 X 36 inch newsprint folded in half and then in half again, creating eight panels each one with a space for a score. There are bundles containing two PROP 6's for sale so people could make their own duets.
For sale:
Peter Redgrave Score
Size: 11 x 17 inches
Medium: Risograph
2023
Remnants from the Performance:
Newsprint Scores from Performance (each)
Size: 24 x 36 inches
Medium: Newsprint
2023
$10
PROP 6 Zine
Size:
Medium: booklet
2021
---
why this was made...
Like the other objects in the PROP series, this one is inspired by the interactions that one has when you read a newspaper. As a duet, this one is about how we share texts with one other person. It asks the players to create a set of scores for the other person. What do we know of each other? What do we ask of one another? How do we share space with a large paper object?
On the cover of PROP 6 is the title and the rules of the score: - Write six parameters/instructions for the other dancer, one instruction on each panel of the paper. To begin the performance, the dancers hand one another the PROP written for them. Each dancer looks at the six instructions and chooses one score to start the performance by folding the paper so the panel is showing as they follow the score. The dancers can choose to move through the six scores on their PROP or they may read over the other dancer's shoulder and do the score on the panel of their partner's paper that is facing. Each dancer may signal the end by putting the back cover, which is intentionally left blank, face up.
---
︎@solarbellybrain
About the Artist:
The world of the imagination is not a separate world, it is woven through our bodies and draws us into the possibilities each moment offers. My work begins with the body and seeks to nourish eand animate wonder with absurd potentials in living.The heart of my research is the horizontal energetic exchange between audience and performer. I aspire to be the fool who speaks in riddles at the feet of authority. I work to facilitate experiences for people through performances, recordings, videos, and text that refract our complicated contaminated world. In the face of a climate emergency and the great reckoning with global capitalism's desire for complete control of life, we are offered little room to make meaningful choices. And yet we go on. Let us fill our bodies with visions of adaptation and resilience that persevere as we are marked. May we find astonishment and humor in the patterns that arise.