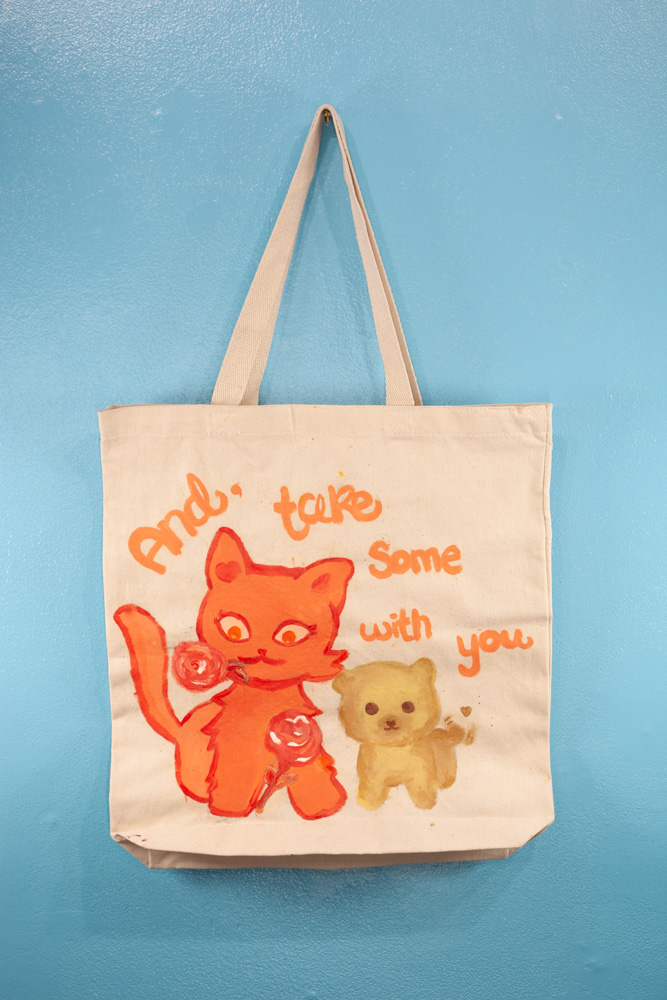 ---
by Yareli Salmeron
Size:
15 x 15 x 3 inches
Edition Size:
1
Materials:
Acrylic Paint on canvas
12oz Heavy Canvas
Bottom Gusset
Reinforced at stress points
21 inch Web Handles
_____________________________________
About the Tote Bag:
This tote is a simple design of vividly colored roses accompanied by a well-known quote "stop and smells the roses," it serves as a not-so-subtle reminder whenever the bag is taken anywhere to stop and relax, and appreciate your surroundings. It is painted on with a fun bright attention-grabbing orange in the bubbly font. This is a widely known quote often taken for granted, this tote bag is a reminder, as you grab and stuff it to rush toward your next destination. Good quote placement, right where you would need it. The other side of the tote bag is my spinoff continuation of the quote: "-And take some with you!" continues the narrative of pausing for appreciation but also takes that sense of appreciation everywhere you go. Enjoy life. It is paired off with a fun silly illustration of a cat offering said roses and a cute puppy pomeranian. It is mainly there to bribe and appease the demographic of cat and dog people. It is a happy balance. Who doesn't love kittens or puppies?

This bag is made out of acrylic paint and is sealed with a couple of coats of matte mod podge. It is hand-painted on both sides of the tote bag.
______________________________________
---
About the Artist:
Year: Junior
Major: Graphic Design
Hometown: Harrisonburg VA

Plans for the Future: Graphic Designer or UX Designer